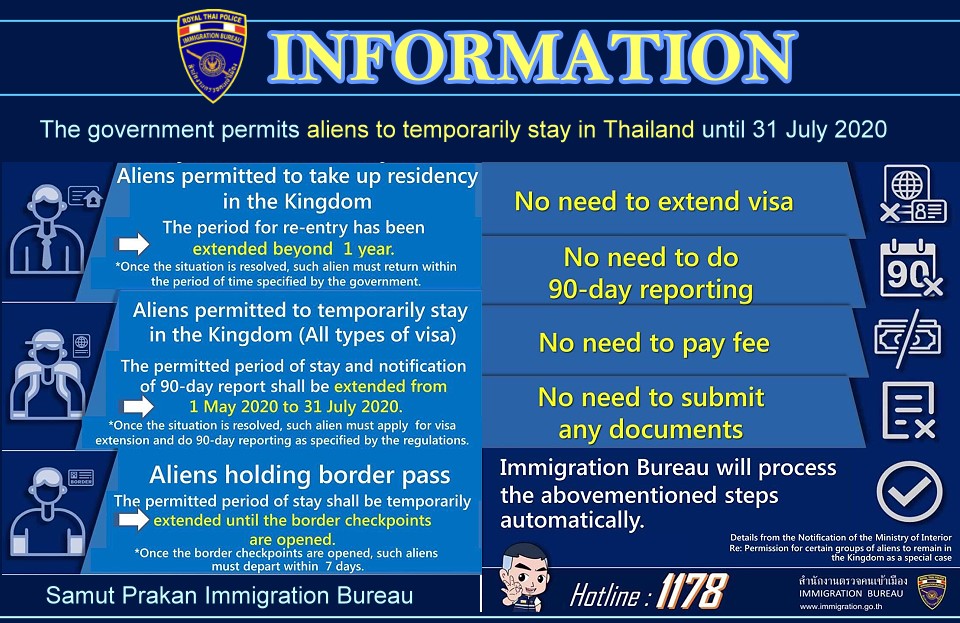 Click here for more notices
PLEASE NOTE: Immigration will be closed on the following days: Monday 4th May, Wednesday 6th May and Monday 11th May 2020. Thank you.
📣 Announcing the latest visa relief measures 
👮‍♂️ The person whose visas has expired from 26th of March 2020 will be automatically extended to 31st July 2020. There is no need to apply for a visa extension at Immigration Office for this period and will not be fined THB 500 per day for this case.
👮‍♂️ Aliens who are due for 90 days reports between 26th of March 2020 and 31st July 2020 are temporarily exempted from reporting in this period until further notice.
👮‍♂️Aliens who are holding Border Passes will be allowed to stay in Thailand for now. However, Aliens with Border Passes must depart Thailand within 7 days of the border crossing points opening date.
👮‍♂️Aliens are advised to follow announcements regarding Immigration measures closely for updates. (Currently measures announced until 31 July 2020 or further updates)
Welcome to the website for the Immigration office in Samut Prakan in Central Thailand. We are open from Monday to Friday. Opening hours are 8:30 a.m. to 4:30 p.m. We are closed for lunch break from 12:00 p.m. to 1:00 p.m. Please note, the queue number system may be switched off at 3:30 p.m. on busy days.

Samut Prakan Immigration is not closed during the Emergency Decree. You can still come to to extend your stay for visas like Non-B, Non-O, Retirement etc. But only if you feel safe. There are not many people these days and so it shouldn't take you long. When you arrive, you will find a tent outside (above left) where you line up. Here they will check your documents and give you a queue number. You can scan the QR-Code and add to your LINE app to get a notification. The new waiting room is outside now (above right) as we want you to be safe.

When your number is called, you can go inside. But first, you will have your temperature taken. For the safety of others, we do not allow people inside if they have a fever. Please also wear a mask and make use of our free hand gel.

Inside the building, please do not sit close to each other. If it is crowded and you are waiting for your passport and documents to be returned, we may ask you to wait outside again. We thank you for your cooperation. If you are inconvenienced in any way, please contact the superintendent of Samut Prakan Immigration on 02-395 0029 Ext. 12 or 14.
QUICK NOTICES:
90 DAY NOTIFICATION: You will find, that towards the end of the day it will be less crowded. If you have all your documents in order, you should be in and out within 5 minutes. You need to fill out the TM47 form and bring photocopies of the following pages in your passport. In addition, you may be asked to show proof of address. So, please prepare a photocopy of your house registration or rental contract.
Front page showing name / surname / Passport No., etc.
Current visa
Last entry stamp of immigration
Last extension of visa
Photocopy of departure card TM.6
RE-ENTRY PERMIT: You need to fill out the TM.8 form. Then bring to the Immigration office your passport, a 4×6 passport photo and 1,000 Baht for single re-entry and 3,800 Baht for multiple entry.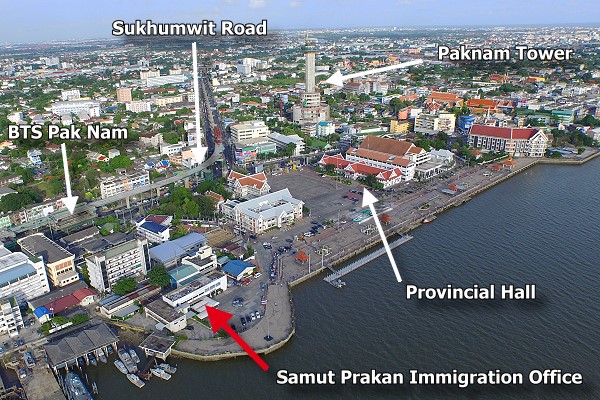 Samut Prakan Immigration office is on the waterfront in Paknam. It is in the same area as the Provincial Hall, City Hall and Paknam Post Office. Click here for a map.