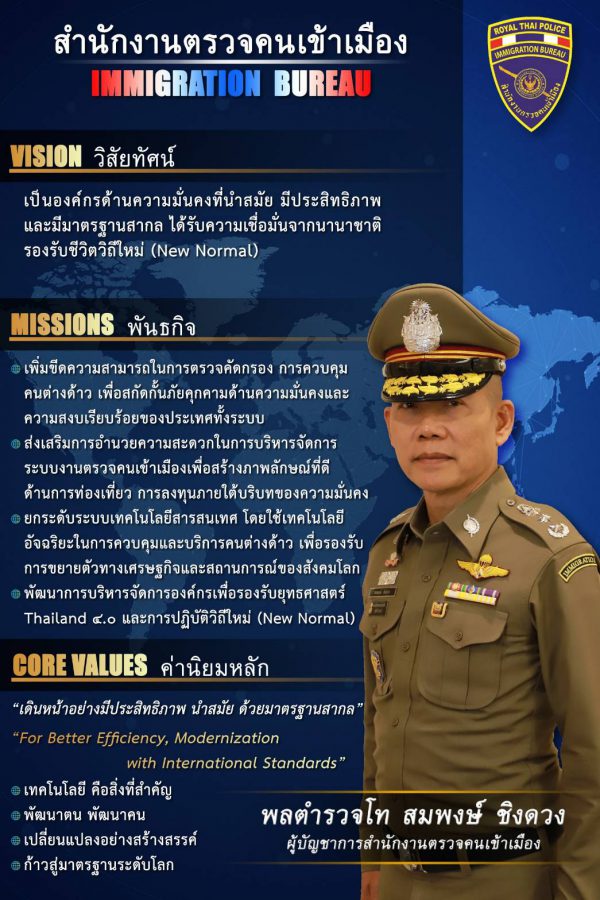 Thailand, the Land of Smiles, has high potential in many fields, such as agriculture, industry, and tourism. Its variety of cultures and world-famous handicrafts attracts visitors from all corners of the world to Thailand in large numbers every year, both for investment and as tourists.
In the past entering and leaving Thailand was done freely. During the seventh reign of the Bangkok dynasty, King Rama VII Prachathipok issued the royal immigration act 2470 (1927) and created the Immigration Department within the Ministry of the Interior and put it in charge of controlling the arrivals to and departures from Thailand, in order to be in line with other civilised nations. The first head of the Immigration department was Pol. Col. Wichai Prachabal who had a mere 50 officers in his department. In 1932 the Immigration Department was attached to the Police Department and its name changed into Immigration Division.
On February 23, 1994 the administration was restructured and the Immigration Division renamed Immigration Bureau.
There is an old Thai saying "Whatever one does, one should enter the right lane and leave through the right door", which means that one should obey the rules of the respective locality. Entering or leaving any country today is no different. Everyone has to report to and be checked by the immigration unit of the respective country each time. A country can be entered or left in three ways, viz. by land, including road and railway, by sea, and by air.
In terms of investment, Thailand has experienced a heavy economic crisis in the past years. The government had to make efforts on all sides to rebuild the trust of foreigners and attract investors back to Thailand. The Immigration Bureau cooperated in solving the nation's economic problems by providing more efficient and convenient services to foreign investors. One of these improved services is the 'one-stop visa service' in Krisada Palza Building on Ratchadaphisek Rd., where foreign investors can get visa extensions at one spot. The document requirements were adjusted and visa extensions can be made within three hours, a service that leaves a good impression on foreigners working in Thailand. Besides this, residential areas have been granted to big scale foreign investors under special considerations.